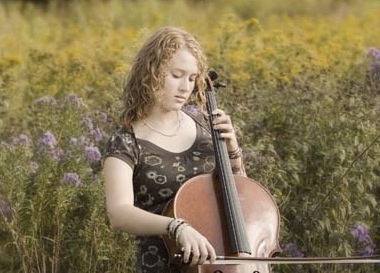 ORANGE CITY – UPDATE July 18: Summer Suites will be held outdoors!
The Orange City Arts Council's annual celebration of flowering gardens and music – and irresistible sweets – is coming soon. The 2014 Summer Suites will be held Wednesday, June 18 in three backyard gardens in Orange City.
The event begins at 6:30 p.m.
The "progressive concert" will feature cellist Hannah McGarvey, storyteller Jim Schaap, and ventriloquist Lisa Laird.
Hannah McGarvey invites Summer Suites guests to immerse themselves in the world of tango from Argentina and Brazil.
A recent graduate from Biola Univeristy in cello performance, McGarvey plans a program featuring music from South America's most well-known composers. Listeners will get a chance to hear tango music by Astor Piazzolla, songs of the Argentinian gaúchos by Alberto Ginastera, and folk-influenced Brazilian pieces by Heitor Villa-Lobos.
McGarvey, of Alton, is actively teaching private lessons and working as a freelance musician in northwest Iowa, and plans to attend graduate school in the near future to pursue a degree in ethnomusicology.
Lori Vande Brake is McGarvey's accompanist.
Lisa Laird, of Orange City,  was honored to be asked to be a featured performer at the International Ventriloquism ConVENTion in July.  Other performers include Jeff Dunham (seen on David Letterman and The Tonight Show) and Terry Fator (winner of America's Got Talent, season two).  So Laird is doing her adult ventriloquism show first at Summer Suites. Kids will love it too!
Fourteen years ago, Laird was drawn into the world of puppetry by her sons Matt and Dan, and completed several levels of training. She worked with puppets in the preschool classroom until '08, and now travels full-time as a family entertainer with Pockets Full of Fun.
She has received four Gold awards as well as first place in the Axtell Video Contest in '13, and has performed at various conferences sponsored by Creative Ministry Solutions.
James Calvin Schaap – Jim! – will read and tell stories at the third garden. Schaap has been writing all kinds of things for almost 40 years. This summer a collection of his newest stories will come out, Up the Hill, folk tales from the cemetery of a small Dutch town in northwest Iowa. "That's all we're saying, really," said Schaap, "but if you've never heard a story that features Calvinist zombies, you will soon."
Schaap recently left Sioux Center after 37 years of teaching at Dordt College. He and his wife moved to rural Alton.
Summer Suites will be held in the backyard gardens of Marilyn Mayberry, Shay and Jackie Davis, and Dale and Jill Pluim.
The event, part of the Onstage Orange City series, is sponsored by the Orange City Arts Council. Instead of a show in Windmill Park, the event happens in three backyards.
Advance tickets are necessary, at $10 for adults and $7 for students. If purchased June 13 or before, tickets are discounted, at $7.50 for adults and $5 for students at the Orange CIty Arts Council office, Orange City town hall and Dove Christian Book Store. Maps and schedules are provided to ticket purchasers.
For more information, contact Orange City Arts Council, 712-707-6514 or ocArts@orangecityiowa.com.
OCArts@orangecityiowa.com  facebook.com/ocArts
——————————
And more info… about the gardens for Summer Suites!
The progressive concert/ garden tour – with desserts at each location – will be held at the backyards of Marilyn Mayberry, Dale and Jill Pluim and Shay and Jackie Davis, all in Orange City.
Dale and Jill Pluim's yard features birch trees, a large maple tree, evergreens and lilacs. A red playhouse/ storage shed sits at the edge of the shady property, complementing the Pluim home. It's an intimate setting. Ventriloquist Lisa Laird will do a program for adults, but children will enjoy the show too!
Shay and Jackie Davis live on the northwest edge of town, on a property that reminds them of their childhoods. Jackie grew up on a farm, and Shay's childhood home was like their Orange City home. "When I went out the front, I was a city kid. The back, a farm kid," he said.
Their front yard features perennials: day lily, bleeding heart, spiderwort, sweet william, columbine, coral bells and a variety of hosta. In the back is a two-tired deck and a large yard with mature evergreen, maple and cottonwood trees. Behind their tree border is a creek and cornfield, and their own zipline. 
Their latest addition are homemade outdoor "lights," attached to the side of their home – created with the help of Mariah and Makenna, with mason jars, pebbles and candles.
Author and storyteller Jim Schaap will entertain the audience at the Davis yard.
The third garden is Marilyn Mayberry's, a large yard filled with ash, spruce, locust, amir maple, pagoda dogwood and Japanese lilac.  Marilyn has planted 17 trees since moving to her home about 18 years ago.
Fritz Kroese was the artist of her backyard patio, created last summer from a picture Marilyn found. There's a two-sided pergola with Italian wedding lights, stamped concrete and a water rock fountain. "This is the only water front I'm going to have," she said with a smile.
Marilyn's garden also features Siberian iris, witch hazel, key lime hydrangea, and pachysandra.
Cellist Hannah McGarvey, accompanied by Lori Vande Brake, will perform at Marilyn's place.
Rain location for Summer Suites is the Northwestern College DeWitt Theatre.