New Northwestern College residence hall to be named for Christys
Northwestern College will name a soon-to-be-constructed residence hall the Christy Suites in honor of the college's president, Greg Christy, and his wife, Michelle.
Northwestern's board of trustees made the naming decision in response to a request from the lead donors for the project: Mary DeWitt of Holland, Michigan, and her five children—Jim, Steve, Jackie, Laurie and Linda—and their spouses.
Members of the DeWitt family have been generous supporters of Northwestern through the years, and many buildings on campus bear their name. This time, however, when the DeWitts gave $5 million for the college's latest construction project, they had a special request.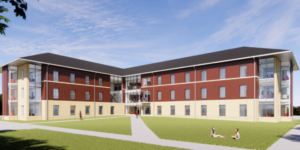 "Their desire instead was to honor the Christys for their strong leadership, humility, work ethic, integrity and commitment to Christ," says Tricia Vermeer, chair of the trustees. "The DeWitt family appreciates the heart, as well as the leadership, of the Christys. They continue to help Northwestern shine as a faithful Christian college of the highest excellence."
Greg Christy has served as Northwestern's president since 2008, and during that time, has led fundraising for the construction or renovation of 10 buildings, including a new library, science center, fieldhouse and admissions welcome center. Enrollment has grown to a record 1,712 students, with graduate programs offered in education, physician assistant studies and counseling. The director of a new engineering program has been hired, and classes for that major will start in 2024.
"I was speechless," Greg Christy says of his reaction when the DeWitts told him not only of their willingness to give the lead gift but also of their wishes for the building's name. "I am deeply humbled and honored that they would think of doing something in honor of Michelle and me."
Christy says his more than 15 years at Northwestern are due to the alignment of the college's Christian mission with his and Michelle's values.
"It's been a real honor to serve an institution that holds Christ-centered ideals," he explains. "We have a very supportive board of trustees and dedicated and talented faculty and staff. Michelle and I believe deeply in the mission of Northwestern, and we believe deeply in our faculty and staff. It's just a privilege to serve alongside them."
The Christy Suites will house 157 women in suite-style rooms. A groundbreaking ceremony was held on April 21, and the residence hall is expected to be ready for occupancy by August 2024. The $14 million facility will consist of three floors, each with two wings, along with a large number and variety of common spaces to encourage the development of community among students.