Northwestern History Professor Publishes Book about Early Christianity
Dr. Robert Winn, professor of history at Northwestern College, is the author of a new book, "Christianity in the Roman Empire: Key Figures, Beliefs and Practices of the Early Church (A.D. 100–300)." The 150-page paperback has just been released by Hendrickson Publishers.
The book was written for a general audience. Winn included discussion questions after each chapter and structured the volume for use by book clubs, small groups and adult Sunday school classes.
The book includes three parts: Christianity in the Year 100, Christianity in a Hostile World (100–250), and Faith and Practice in the Third Century. Winn says today's Christians can learn a lot by studying Christians who lived in the Roman Empire before Constantine.
"Early Christians in many ways were in the same position as us today, trying to make sense of a sacred text and determine how it applies to their lives," Winn says. "The context is different, but it's amazing that we address similar questions."
Winn also says the stories of how early Christians endured persecution could be instructive to Christians living in an increasingly secular world. And he says contemporary Christians can draw insights for handling major social crises or controversies over church leadership by reading about how their predecessors responded to similar situations. "It's always helpful to see how Christians in different time periods responded to questions and problems that we face today in different contexts."
"Christianity in the Roman Empire" is available at Hendrickson.com, Christianbook.com, Amazon.com and other retailers.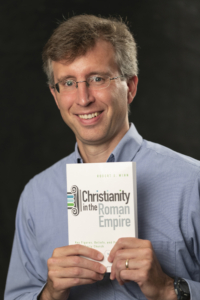 A scholar of religious and intellectual history in late antiquity and the early Middle Ages, Winn previously wrote "Eusebius of Emesa: Church and Theology in the Mid-Fourth Century," published by The Catholic University of America Press in 2011.
A member of Northwestern's history faculty since 2004, Winn is already at work on a follow-up volume, "Christianity in Late Antiquity (A.D. 300–500)." He earned doctoral and master's degrees in early Christian studies at The Catholic University of America. He also holds a master's degree in history from Miami University of Ohio and a bachelor's degree in history from Cedarville University. Prior to joining Northwestern's faculty, he was a visiting professor at Creighton University.