Spanish Services at the Orange City Public Library
Throughout Orange City, various organizations are expanding their services in recognition that there is growing diversity in Orange City. The Orange City Public Library is just one part of the community that is constantly evaluating our population and our services to make sure we have something for everyone.
As part of this effort, the library started an English Language Learning program in 2014. The English Class is free for students of all levels and runs throughout the year. English-speaking community members have the opportunity to participate in the English Tutoring Program by meeting with an English language learner one-on-one. Tutors receive training and access to library teaching materials.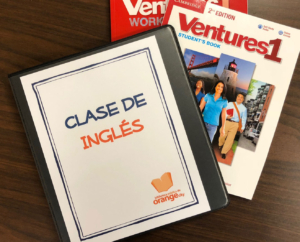 In 2017, the Orange City Public Library received an Adult Literacy Grant from the Dollar General Literacy Foundation, which was used to expand the library's collection of English-learning and-teaching materials and adult Spanish books. The library also has a growing collection of Spanish and bilingual children's books.
Bilingual staff members at the Orange City Public Library are available to help Spanish-speaking patrons and continuously work to ensure that library information and materials are available in Spanish. Throughout the year, the library offers bilingual children's programs, such as the annual Día de los Niños / Día de los Libros (Day of the Child / Day of the Book).