2019 Tulip Court Costumes, Parade Marshal Revealed at Orange City Tulip Festival Extravaganza
The 2019 Orange City Tulip Festival Extravaganza was held on Wednesday, March 13, at the Prairie Winds Event Center in Orange City. The annual event provides an opportunity for the community to see a first glimpse of the Tulip Court costumes, as well as celebrate this year's selected parade marshal.
2019 Tulip Court Costumes
Each year, the Tulip Festival selects an authentic costume that reflects 19th century Holland, representing the time frame when Dutch immigrants settled in Orange City. The goal with each costume is to preserve authenticity and history.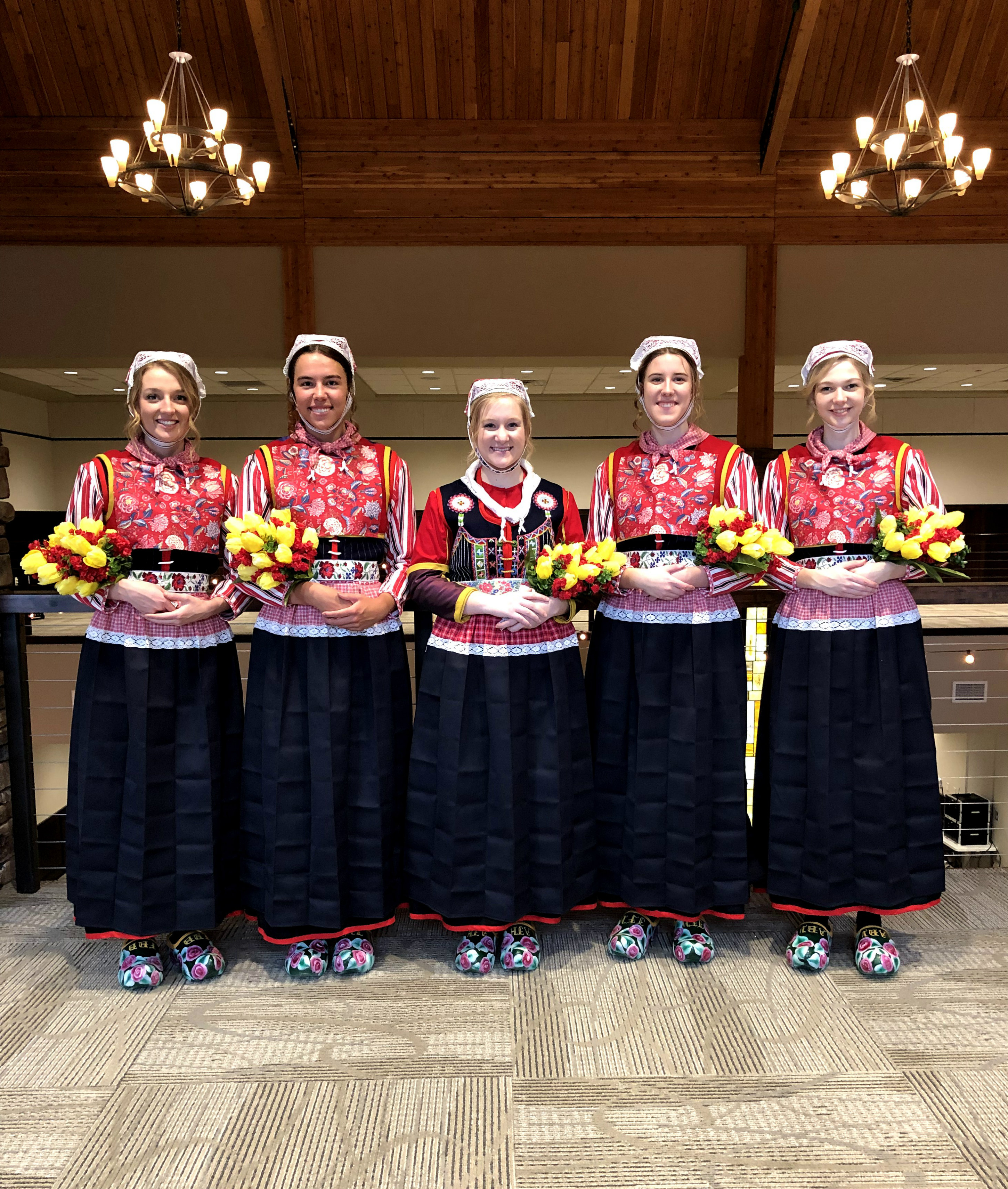 For this year's 79th annual Tulip Festival, the Tulip Court will be wearing costumes from the fishing village of Marken in Noord-Holland on the Zuiderzee. This year's costume has a total of 35 different fabrics, laces and other trims and each represents dozens of hours of sewing and other handwork by Tulip Festival volunteers.
A true community effort, the Tulip Festival costume committee consists of local women who work together to complete the costumes in secrecy for the full unveil at the Extravaganza.
Read more about this year's Tulip Court Marken costumes at the Orange City Tulip Festival website.
At the Extravaganza, the 2019 Tulip Court also presented their traveling road show for the first time. The road show, which the festival royalty wrote and will present to various organizations, schools, and residential facilities this spring, tells of the events and attractions at Tulip Festival and gives a detailed overview of their costumes.
2019 Parade Marshal
Each year a parade marshal is chosen for the festival. This honor is given to recognize someone for the contributions he or she made to the festival in past years. At this year's Extravaganza, Scott Mulder, owner of Mulder Auto in Orange City, was named the 2019 Parade Marshal.
The Tulip Festival Steering Committee is pleased to provide Scott, his family and auto crew with this honor due to his dedicated work with parade floats and trolleys since the 1980s. During the festival, Scott and his crew are often found underneath floats and trolleys, working to make sure the parade and its entries run smoothly.
Read more about this year's Parade Marshal at the Orange City Tulip Festival website.
Extravanga attendees were also treated to a musical selection from Disney's Beauty and the Beast, this year's Tulip Festival Night Show. Tickets are on sale for the production, and can be purchased here.
As many local volunteers prepare for this year's festival, we welcome you to plan your own visit May 16-18 to Orange City for the 79th annual Tulip Festival.