Orange City a Perfect Fit for Entrepreneurs of Online Meal Plan Service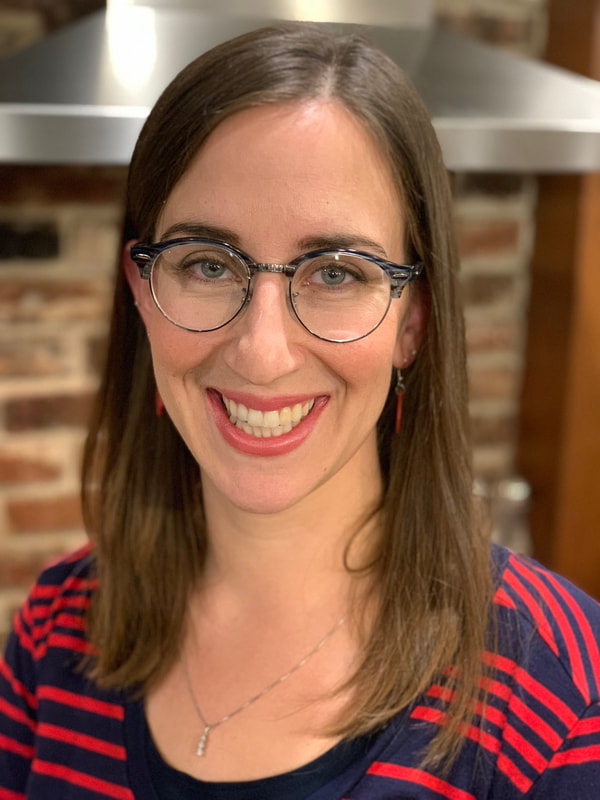 Tonya Huenink is a registered dietitian and Orange City resident who took the plunge into entrepreneurship with her husband Chris to start an online business, Meal Squeeze. Meal Squeeze is a meal plan service that provides weekly recipes and shopping lists to help empower busy families to squeeze in a balanced meal together.
Below Tonya tells us why Orange City was a perfect setting for her and her family to thrive while starting their new business.
Tell us a little about you and your family.
I grew up on a farm near Maurice, Iowa, and Chris grew up in Orange City. We both went to MOC-Floyd Valley, then Iowa State University, and then on to the University of Iowa to finish up my degree. We have two awesome kids: Ellie (5) and Ezra (1), and we like to spend our spare time doing home improvement projects and drinking copious amounts of coffee.
What initially brought your family back to Orange City?
We've actually left and come back a couple of times! Right after graduating from college, we were both able to find jobs in the area, and we moved home for about four years. Then Chris' job led us to move to Minnesota. By this point, our daughter was two, and we really missed being close to our extended family and the close-knit town we were used to. Once his job provided the option of working remotely, we moved back to Orange City as soon as we could! We've been back for three years now and love being here.
What have you enjoyed the most about living here?
When we were in college, I don't think either of us expected we would move back to Orange City or that we would start a business together, but those have been two of the best decisions we've made for our family.
We have so enjoyed the close-knit community to raise our family in over the past five years. After years of living in larger cities, it's been wonderful to get back to walking around town and knowing people everywhere we go. We love that our street is quiet enough that the neighbor kids can bike and play ball together, but we're also close enough to downtown to walk wherever we want – especially to all the concerts in the park every summer!
Tell us about Meal Squeeze, the online-based business you started last year.

In late 2017, we began talking about starting our own business. Chris has always had an entrepreneurial spirit, and in my work as a dietitian, I saw a need I knew we could fulfill. Many people struggle to eat well consistently because it takes time to plan balanced meals and people are just plain busy!
There are other meal planning businesses out there, but we had a vision of one custom-built for Midwesterners. One packed with tasty recipes with "normal" ingredients everyone can find in their local grocery store, that will appeal to parents and kids. I'm not trying to make every meal the healthiest meal you've ever eaten, I just want to help people eat a little better than they currently are. I want to make cooking enjoyable again and help families enjoy their meals together. Oh, and because we're good Dutch folk, we made the Meal Squeeze membership super cheap, ha! Truthfully, we're just really passionate about the importance of family meals, and we didn't want cost to be a barrier for anyone.
What do you most enjoy about your business?
My absolute favorite part is the feedback I get about how Meal Squeeze is making it easier for families to eat balanced meals together. I just love when someone emails me and tells me their kids are trying (and enjoying!) new foods, or they've rekindled their love for cooking now that they aren't responsible for the planning part. It would take a lifetime of traditional dietetics work to impact as many families as we've already impacted in just one year of being in business.
Chris' favorite part of the business is the ability to innovate quickly. His day job is with a large corporation, where change can come slowly, so he relishes the ability to be able to make quick decisions and act on them in our own business.
What surprised you most about starting your business in Orange City?
When we launched our business late last year, we were amazed by how supportive the community has been from the start. I think the great thing about starting a business in a small town is there are so many other small business owners who rally together to support each other. In the early days, we grew solely by word of mouth. We told our family and friends, and they told their family and friends, and soon it felt like half of Orange City were Meal Squeeze members! I'm not sure we would have experienced that amount of support in a larger city.
What advice do you have for others looking to start a new business?
Find your core audience and build your services around it. There are probably a million different directions you could go, or services you could offer, but if you know your niche, it makes it so much easier to determine what is worth spending your time on and what isn't. You may not be doing something completely new, but if you're doing it for a new audience, you can have great success!