Orange City Arts Pairs Music and Advocacy with Nobuntu
Orange City Arts presents Nobuntu of Zimbabwe on October 16th, 7:30 pm at Northwestern College Christ Chapel. The female a cappella quintet has drawn international acclaim for inventive performances that range from traditional Zimbabwean songs to Afro Jazz to Gospel.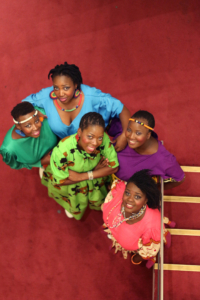 "We wanted to connect with our community in a meaningful way during Domestic Violence Awareness Month this October," says Orange City Arts Director Lindsay Bauer. "Not only is Nobuntu's music incredible, some of their work also speaks directly to this important issue."
The women of Nobuntu will spend time that afternoon leading music with domestic violence survivors and staff at Family Crisis Centers in Sioux Center before their evening performance in Orange City.
African vocal ensembles have a unique sound with wide appeal and Nobuntu is "one of the best—reminiscent of a female Ladysmith Black Mambazo," says Bauer. The ensemble was nominated for Best Musician of the Year at the Zimbabwe International Women Awards in London in 2015 and in the last few seasons, the quintet has performed at festivals and concert halls in Italy, Austria, Germany, Belgium, the Czech Republic, Canada, and throughout the African continent.
The word Nobuntu is an African concept that values humility, love, unity and family from a woman's perspective. The ensemble represents a new generation of young African women singers who celebrate and preserve their culture, beauty, and heritage through art. The ensemble believes that music can be an important vehicle for change, one that transcends racial, tribal, religious, gender, and economic boundaries.
Tickets for Nobuntu of Zimbabwe's October 16th performance are available at orangecityarts.net or by calling (712) 707-6514. Tickets are $15 for adults and $10 for students. The performance begins at 7:30 pm and doors will open at 7:00 pm. Seating is general. For more information, visit orangecityarts.net.
This concert is made possible through partnerships with Iowa Arts Council and Northwestern College.