Meeting Held to Update Public on Orange City Vision Statements
On Tuesday, November 6, a public meeting was held at Prairie Winds Event Center in Orange City. Twelve community organizations updated the public on recent achievements and future strategic plans as part of the Vision 2035 strategic planning initiative.
Representatives from these community organizations provided the following updates :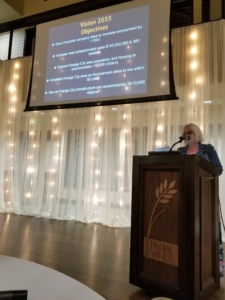 Orange City Development Corporation
City of Orange City
Orange City Parks and Recreation
Orange City Public Library
Prairie Winds Event Center
Landsmeer Golf Course
Orange City Arts Council
Orange City Area Daycare Center
Orange City Chamber of Commerce
Tulip Festival Committee
Dutch Heritage Boosters
Sioux County Historical Society
The meeting was recorded in its entirety and is available to view.
About Vision Orange City:
In the spring of 2016, a group of community leaders came together to talk about the future of Orange City. The question was asked "What do we want Orange City to look like in 2035?" The group met and determined vision statements for the community to be used as a guide for future planning.
These 2035 vision statements include:
– Grow the industrial base to increase industrial employment by at least 1,000 employees.
– Increase total retail establishment sales to at least $140,000,000 and have at least 300 retail establishments.
– Expand Orange City area population and housing to accommodate at least 10,000 citizens.
– Establish Orange City as the premier place to live within 50 miles.
– Assure Orange City infrastructure can accommodate 10,000 – 12,000 citizens